A Stand Easy story of hope September-2021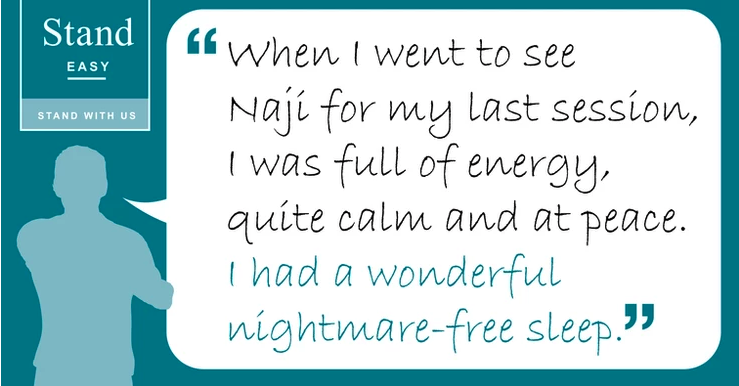 Over the last two months, we have been especially busy providing life-changing treatments for veterans across the UK suffering with PTSD. The below case study is just one example.
"About three years ago, I suffered a series of traumatic events, leading to depression, anxiety and suicidal thoughts. I ended up in a psychiatric hospital and was diagnosed with PTSD. I was eventually medically discharged from my role. I was left with debilitating hyper-vigilance and nightmares (where I would scream, punch and cry). These were frequent - 4-5 per week. That's when I decided to contact Stand Easy.
Due to the distance, my wife and I stayed in Norwich for 3 days. I had contacted Naji by email before and he arranged appointments within two days of my initial contact.
When I attended he immediately put me at ease. We chatted for 5 mins and then started the treatment (which was painless). Immediately afterwards I felt a strange sensation of lightness - I walked around the city for the rest of the day and my hyper-vigilance was definitely 'toned down'.
However, that night I had nightmares and flailing around in bed. I explained this to Naji at our second appointment. He then worked on me again. For the rest of that day, I would describe my hyper-vigilance as more of an acknowledgement of threat, without the associated anxiety of fight or flight feeling, It was liberating. For the first time in a long while I thought - "this must be how it feels for everyone else." I really enjoyed walking around the city and not being afraid of people, places and crowds.
"That night, I had a wonderful nightmare-free sleep. When I went to see Naji for my last session, I was full of energy, quite calm and at peace."
Now I would describe myself as a sceptic - but for me, this really has worked. I am so glad I was pointed in the direction of Stand Easy. I would recommend his acupuncture treatment - you have nothing to lose."